Ms B.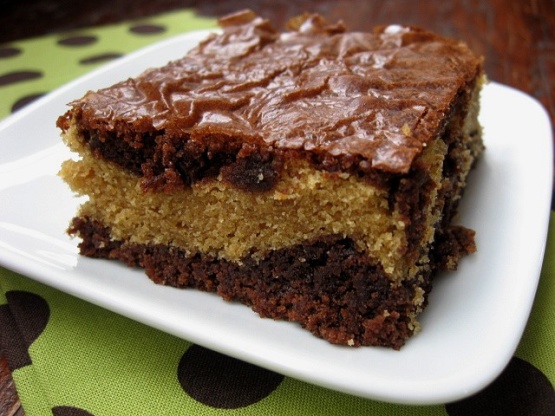 i found this on the back of a pillsbury brownie box. it is easy to make and tastes great.

Top Review by Ms B.
Hubby and I decided to have a treat last night while watching movies. He is a Reese's fan, and you would think that he would have had his fill with all of the peanut butter eggs he recently ate for Easter. Nope; LOL. I am not an experienced baker and had trouble getting the layers to spread evenly. In fact, at one point, Hubby found me swearing at the pan. He thinks that my frustrations were worth it, though. The peanut butter layer makes the brownies lighter, and more cake-like. While I like a dense, chewy, and chocolatey brownie, he was very happy with the results. I did use my mixer to blend the peanut butter layer, as I had trouble getting the butter to incorporate by hand. My tip for spreading the batter layers is to drop it by spoonfuls across the top and then blur together. Big blobs just make it difficult to spread wet ingredients on top of wet ingredients.
Heat oven 350.
combine brownie mix, oil, water and eggs in large bowl; stir 50 strokes with spoon. set aside.
in small bowl, combine peanut butter and margarine; beat until smooth. add sugar and flour;mix well. add 2 eggs, blend well.
spread 1/2 of brownie mix into greased 9x13 pan. carefully spread peanut butter mixture evenly over chocolate mixture. spread remaining chocolate mixture over the peanut butter mixture.
bake for 30-33 minutes. cool 1 hour or until completely cooled. store loosely covered.