fawn512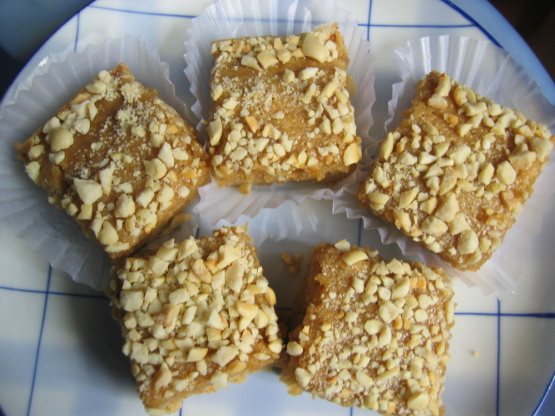 This is another great gift or potluck treat. You can really make them look impressive by brushing top with maple syrup and sprinkling with finely chopped toasted peanuts just before serving. Try cutting them into longer, thinner bars instead of the traditional square for a change of pace.

I was craving a dessert that was both easy to make and peanut butter based. These brownies melted in my mouth. I'd suggest serving them warm to enjoy the full flavor. Thanks a bunch for our new family fave!
In a 3-quart pan over low heat, heat butter until melted.
Remove from heat and stir in sugar, eggs, vanilla, flour, peanut butter, and baking powder until smoothly blended.
Evenly spread batter in a buttered and floured 8-inch square pan.
Bake in 350°F oven until edges feel firm to touch and begin to turn a shade darker, 25 to 30 minutes.
Run a knife between pan rim and baked brownie.
Cool in pan on a rack, about 1 hour.
Cut into 9 or 16 squares.
Store in airtight container up to 2 days, or freeze to store longer.