Ms B.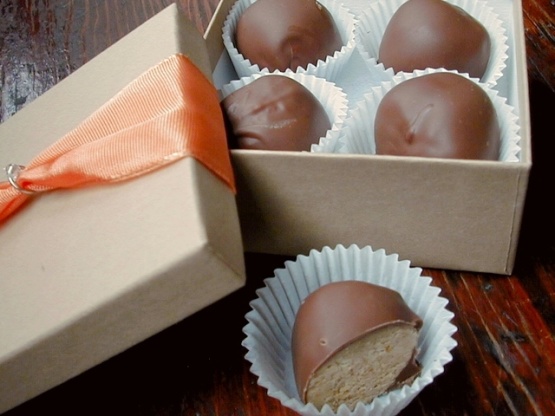 My mother has used this recipe at Christmas since the mid 80's. You can substitute chocolate candy coating for the chocolate frosting. Cook time includes time for coating to set.

I have this recipe in an old cookie book and I tell you these are the best. I have made others but they are not the same, so I came back to these, still have the book, but wanted to Pin this one to my page so others would enjoy it.
In large bowl, combine Vanilla frosting, peanut butter and margarine with a fork until well blended.
Stir in crumbs until well mixed.
Form into 1-inch balls.
Chill 1 hour.
In small saucepan, melt Chocolate frosting over low heat, stirring occasionally.
DO NOT OVERHEAT-- THE FROSTING WILL BECOME STICKY AND WON'T SET UP PROPERLY.
Dip chilled balls in melted frosting.
Allow excess to drip off.
Place on waxed paper.
Let stand at room temperature until dry, about 6 hours.
TIP: If the frosting used for coating thickens, gently reheat.
Use leftover coating for dipping dried fruit or nuts.