Marlene.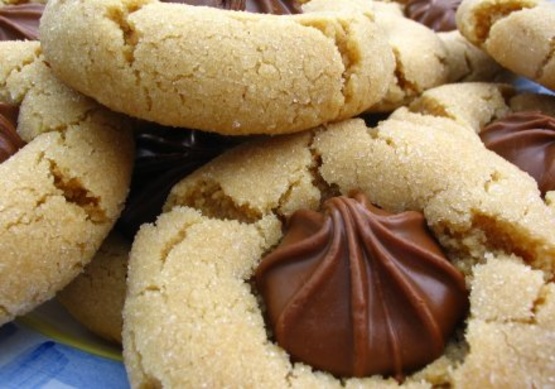 From BH&G Biggest Book of Cookies. I made these tonight after cries of "What's for dessert?" They're all gone. For an extra little treat, make these with the new Hershey's Kisses filled with caramel. YUM! YUM!

What can I say that hasn't been said already. I HAD a recipe that I always used, but couldn't find it. So, I searched here and found this one. My LAST recipe EVER for these. These are excellent. I refrigerated the dough overnight for time reasons on my part and they turned out good. I made a double batch and got about 125 cookies out of the recipe. I used chocolate stars because that is how my mom always made the blossoms. Plus, I subbed soy milk for the regular milk because DH can't have milk. All in all, great recipe. Thank you.
Preheat oven to 350.
In your electric mixer's bowl, beat the shortening and peanut butter on medium to high speed for 30 seconds, or until well combined.
Add the granulated sugar, brown sugar, baking powder and baking soda.
Beat until well combined and"fluffy", occasionally scraping the sides of the bowl.
Beat in egg, milk and vanilla until well combined.
Beat in the flour.
You may stir in any remaining flour with a wooden spoon if your mixer doesn't get it all.
Shape cookie dough into one inch balls.
Roll the balls (individually) in the 1/4 cup granulated sugar.
Place balls 2 inches apart on an ungreased cookie sheet.
Bake for 10 to 12 minutes, until bottoms are lightly browned.
Do not overbake.
Immediately press a Hershey's Kiss into the center of each cookie.
Transfer cookies to a wire rack to cool.
After cooling, hide them from your children, or you won't get any.