Peanut Butter Blender Bread!
HisPixie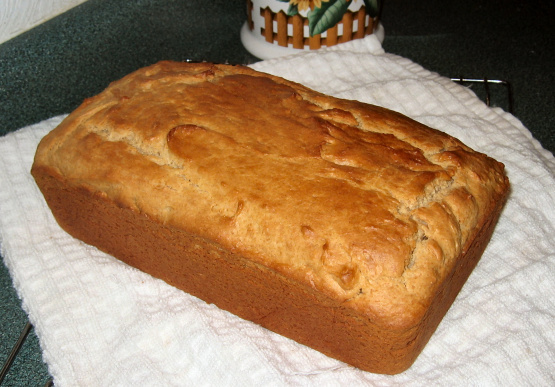 A really fast PB bread recipe!

This is AWESOME! What a TREAT this is! Made it for tea today, I'll be serving it an hour from now. But with the way the aroma is wafting through the whole house and the kids in the building ringing away at my doorbell, I'm sure this is a huge 'HIT'! Its baked beautifully in my AMC Dutch Oven. Took an hour to bake, but it sure was well worth the time! Thank you for sharing this. This comes from the heart of a major PB fan who just completed a major research on the processes involved to make PB!
Heat oven to 350°F.
Grease a loaf pan.
In a blender, combine milk, peanut butter, eggs, sugar, and salt.
Blend for a few seconds.
Add into the batter the flour and baking powder.
Blend mixture for another few seconds combining well.
Pour into the greased pan.
Bake for 50-60 minutes.