loof751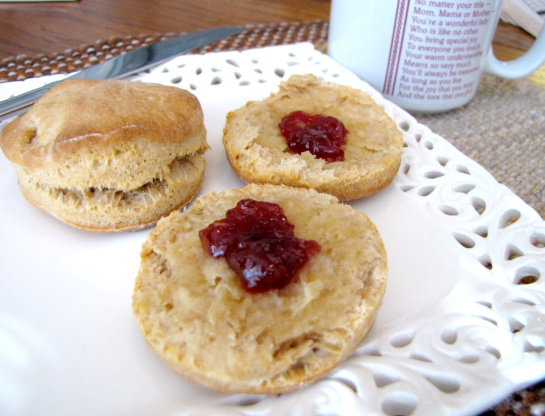 Tender, flavorful, easy -- wonderful too as a topping for a meat pie. From the 1963 Peter Pan Peanut Butter Cook Book.

Oh these are great biscuits! The peanut butter adds a richness and the peanut flavor is subtle. My biscuits baked up very tender and light, and perfect topped with butter and strawberry preserves. Thanks for sharing a great recipe! Made for Fall Pick-A-Chef 2011
Preheat oven to 450 degrees.
Sift dry ingredients together in a bowl. With pastry blender or two knives, cut-in shortening (or butter) and peanut butter until mixture is crumbly.
Make a well in center of crumbly mixture, pour in milk and stir only until a soft dough is formed.
Knead dough gently on lightly floured pastry cloth for about 30 seconds.
Roll out or pat dough to about 1/2-inch thickness and cut into about 12 biscuits.
Place on ungreased baking sheet, close together for soft sides, or spaced apart for crusty sides.
Bake at 450 degrees for 10-12 minutes.
Variation: For drop biscuits, increase milk to 1 cup and drop dough by spoonfulls onto greased baking sheet. Bake for 10-12 minutes.