mikey ev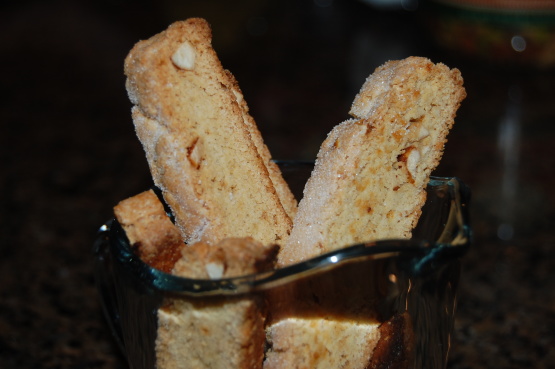 A biscotti recipe that kids are sure to like.

This was such an easy recipe! I'm glad I read the reviews. I did spray my baking sheet AND hands with cooking spray. I also baked the first time for 30 minutes the first time and 20 the second. I also ended up dipping them half way up in melted chocolate and let harden. AWESOME!
Preheat oven to 350°F.
In a large mixing bowl combine the flour, sugar, baking powder, and salt.
In a separate bowl, lightly beat together the eggs, peanut butter and water; Add flour mixture to egg mixture and mix just until ingredients are incorporated, add a little more water, a teaspoon at a time, can be added if mixture is to dry to make a smooth dough: Stir in peanuts.
Divide the dough into two portions, and form each into a log approximately 3 inches in diameter. Place the logs on the cookie sheet about 3 to 4 inches apart and flatten them slightly with the palm of your hand.
Bake in preheated oven until light brown, about 40 minutes, take out of oven; turn oven down to 300°F; let logs cool for 10 minutes, then cut at angle into 3/4-inch thick slices; Place slices, cut side down on cookie sheet and bake until crisp, about 20 minutes, enjoy.