Pixie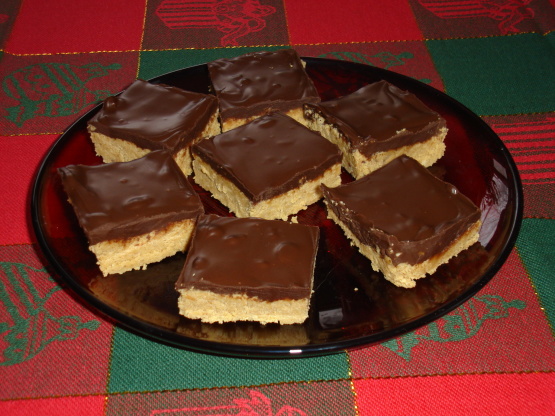 This is one of my daughters favourites. She loves to make these herself for a treat.

Top Review by Pixie
So yummy and so easy - did I mention FAST? You can make this up on the drop of a hat with things I usually have around anyway. I love the addition of the peanut butter to the chocolate since this prevents the chocolate from getting to hard when it is chilled. I scaled this recipe to be for a smaller pan and used chunky peanut butter. I used a bit less peanut butter in the topping and a bit more chocolate (personal preference). Delicious, definitely a keeper! Thanks for posting.
Melt butter and 1 cup peanut butter.
Add graham cracker crumbs and icing sugar.
Press into a 9x13 pan.
Melt chocolate chips and 2/3 cup peanut butter.
Spread over the crust.
Put in fridge to cool.