Hadice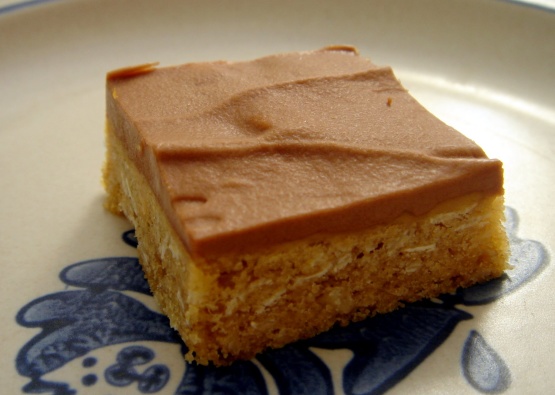 My mom always makes these for the 4th of July, but they are good anytime! Perfect for potlucks, parties, and dessert trays. The baking time may vary due to altitude or humidity. Bars are ready when golden brown and toothpick comes out clean when inserted. Layers from bottom up: cookie bar, 1 cup peanut butter, chocolate frosting. Prep and cooking time do not account for cooling time.

Made this to bring to work and folks liked them a lot.
Mine took a lot longer to bake than the recipe says - I wasn't sure how big a "jelly-roll" pan is supposed to be, so maybe my 9x13 made them thicker.
Cream butter, peanut butter, and sugars.
Add vanilla and eggs. Mix.
Add remaining ingredients and mix until you reach cookie dough consistency.
Press dough into a large, lightly-greased jelly roll pan.
Bake at 350F for approx 10 minutes or until lightly brown and firm.
Beat 1 cup of peanut butter and smooth over hot cake.
Cool completely.
To make frosting: beat first 4 ingredients together until smooth.
Alternately add evaporated milk and powered sugar until you reach your desired consistency and taste. You might find that you do not use all the milk or powdered sugar called for. Frosting should be fairly thick.
Frost cooled cake with chocolate frosting.
Cut into squares and enjoy!