Prep 10 mins
Cook 25 mins

Directions
Melt peanut butter and butter together.
Add the remaining ingredients and stir until well blended.
Press into a greased 9X13-inch pan. Bake in a preheated 350 oven for 25-30 minutes.
Cool and cut into squares.
Reviews
Most Helpful
We tagged this for PRMR game because it sounded yummy and simple to make. I quartered the amount however, as I was a bit leary from previous reviews. I used 1.5x the flour called for hoping this would give it some density. Unfortunately it fell as soon as I removed it from the oven and the taste was just 'okay'. As one reviewer stated, this recipe has potential. Maybe as a cookie recipe? Sorry WI, we really wanted this to work.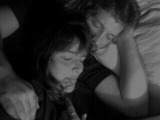 This also did not work out for me. It also rose and fell. The edges were hard and over cooked and the center was chewy. I would guess that less butter is needed with natural PB and perhaps a bit less sugar. This has potential and hopefully I can get some time to play with it.

it rose and then fell and turned out a mess! i followed the directions exactly... maybe it was just me.