Peanut Butter & Banana Pancakes
Ambervim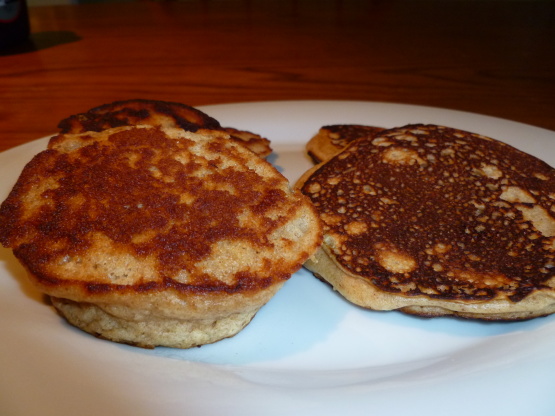 I make this often for my family, and there are NEVER any leftovers. It's a great way to use up over-ripe bananas and sneak a fruit and a good protein source past the kids!

Oh, these are good! I used Recipe#145489 as my base and pulled my bananas from the banana graveyard (the freezer!). My peanut butter was super crunchy and we liked the little crunch of nuts. This makes a TON of pancakes. We liked them quite a lot as written. But then I added a large handful of mini chocolate chips to the batter and we loved them! These are fluffy and have wonderful flavor and texture. My son said that they were so good that they should not have syrup because that takes away from their "natural goodness"! :)
Preheat oiled griddle to 350 degrees.
In a large mixing bowl, combine milk and eggs; mix well.
Add mashed bananas and peanut butter.
Gently stir in Bisquik mix. Batter should be thin but not runny.
Pour out scant 1/3 cup of batter onto griddle. (I cook 8 pancakes at a time on my electric griddle.)
Once edges are dry and cooking side is golden brown, turn pancake and cook on that side until golden brown.
Serve immediately.
NOTES: These freeze very well. Thaw in microwave and serve immediately.