Peanut Butter Banana Fritters Drizzled With Chocolate Sauce
rosie316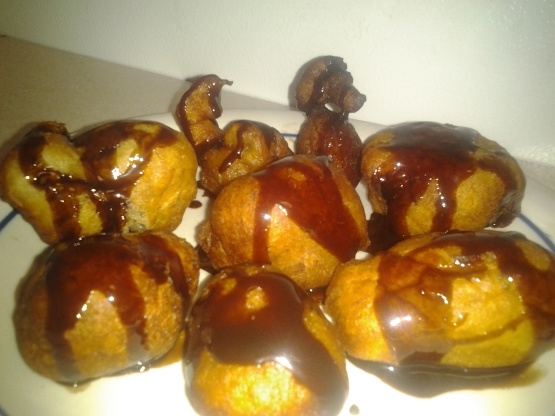 I have not yet prepared this dish, but it sounds delicious!!! This recipe is by Nadia G. from Cooking Channel Tv.

I made these the other day. They are quite yummy. I would suggest maybe upping the peanut butter just a bit, and definitly use very ripe bananas (with black spots), just to enhance the flavors. I did have a wee bit of trouble at the start forming the fritters (suggest putting batter in fridge for a bit). I ended up with a few bizarre shapes (not sure if I will post the pics). Just be sure to cool the fritters 'completely' before topping with "drizzle". Thank you for a fun idea to play round with. (Made for PRMR)
Combine the flour, sugar, baking powder,salt and soda in a bowl and mix. Add the bananas, peanut butter, milk and egg and whisk until the consistency is such that it can be balled up in a spoon. In a medium saucepan, heat the peanut oil to 375 degrees F. Using a teaspoon, delicately spoon the batter into the oil, a few balls at a time and deep fry until they fluff up and become crispy and golden bown - about 5 minutes. Strain on a wire rack.
To make the chocolate sauce, bring a cup of water to a simmer in a pot. Add a large metal bowl over the top of the pot. In the metal bowl, add the chocolate chunks and whipping cream, then whisk until it melts together.
Generously drizzle the chocolate sauce over the fritters and serve.