Peanut Butter-Banana-Carob Milkshake
PaulaG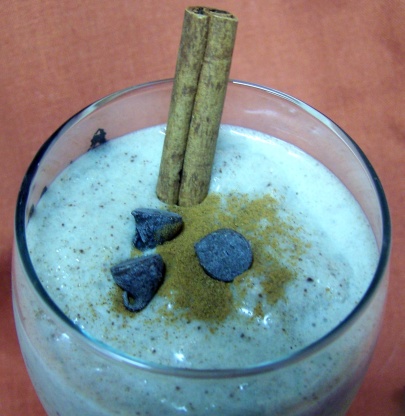 This is submitted in response to a request for recipes using carob. I haven't tried it yet, but it looks like a healthy and caffeine-free alternative to the traditional chocolate shake! Okay, mostly healthy! I got it from Vegweb. I'm sure you could substitute cocoa for the carob if you so desire!

This was a yummy treat! I followed the recipe exactly but felt I didn't need to add the extra ice cubes because the banana I used was frozen ;-) The shake had a nice creamy consistency and the peanut butter flavour was subtile but unmistakable. Even though I used carob powder, it needed no extra sugar IMHO. Thanks!
If using carob chips, place the peanut butter and chips in the microwave-safe bowl and microwave on HIGH for about 7-10 seconds, or until the mixture is smooth and pourable.
Spoon into blender along with banana, soy milk, and ice cubes.
If using carob powder, combine in blender along with banana, soy milk, peanut butter, sugar, and ice cubes.
For both: Blend until smooth.
Sprinkle with cinnamon to taste.