Peanut Butter, Banana and Sultanas Sandwiches or Pinwheel Style
ImPat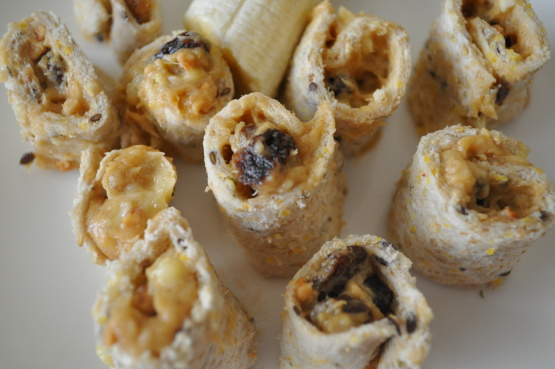 Yummy little snack for little kids or big kids. Alternatively, you can use either two slices of the same bread (either two white bread or two wholemeal bread) it's just to make it look pretty and healthy for kids. The pinwheel style is difficult to do without making a mess so if you don't like a mess or a challenge. You can use two more slice of bread and place them on the top, this will then be a serving size for two. Please be careful with nuts, we don't give Little Miss (DD) nuts because her cousin has a severe nut allergy.
1

slice whole wheat bread (wholemeal bread)

1

slice white bread

Filling

1 1⁄2 tablespoons peanut butter, smooth
1⁄2 large banana

1

tablespoon sultana
1⁄8 teaspoon cinnamon, to taste
Cut crusts off from both slices of breads and with a rolling pin flatten both breads.
In a small bowl, mash bananas, and then add peanut butter, sultanas and cinnamon.
Evenly spread filling over both breads. Roll bread up starting from the long side.
With a sharp knife cut into slices to form pinwheels. Enjoy.