Lvs2Cook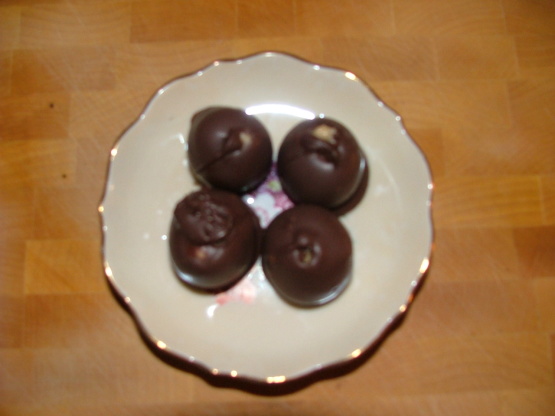 These are my family's favourite holiday treat. Where we live the kids call them "Moose Droppings", but don't let that keep you from trying them...they are decadent! Cook time is the time it takes to dip them in the chocolate.

Yummy! I made these yesterday for Christmas, and they were a HUGE hit! My batch made a little more than 60 truffle-sized balls. I did add about 1/4-1/3 cup extra peanut butter than was called for because my mixture seemed a little too dry. It may have been because I used reduced fat pb. Adding the little bit of peanut butter made it perfect! I also dipped in semi-sweet choc. chips with some shortening. Thanks for a fabulous and easy recipe!
1 1⁄2 cups smooth peanut butter
1⁄4 cup butter

2

cups powdered sugar

1

teaspoon vanilla

2 -3

cups dipping chocolate, wafers melted in a double boiler (available at most bulk food stores)
Mix the first four ingredients together well.
Shape into 1 inch balls.
Dip balls into melted chocolate and place on waxed paper lined cookie sheet to set.
*I find the balls easier to dip when they are frozen or at least cold.
I make the balls one day, pop them in the freezer and take them out a few at a time to dip-- this keeps them from being too soft to dip.
*If you can't find dipping wafers, substitute semi-sweet chocolate chips melted with 1/3 grated parowax (yes, parowax is edible!).