2 Reviews
My family has been making these just like this for years!! Same exact recipe! Most "peanut butter balls" recipes have Rice Krispies in them... and that is not my thing! We make 6 batches (at least!!!) each holiday and they're always gone sooooo quickly. Delicious and perfect tasting. Always a hit!
What's to say??! These are little balls of peanut butter and chocolate heaven, plain and simple. I used Ghirardelli Bittersweet chocolate to coat them. Very easy to make as they go together so quickly. Hmm, that could be dangerous....LOL.
Made for PAC Spring 2011.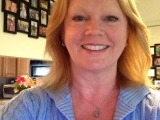 Peanut Butter Balls