Peanut Butter and Jelly Muffins
CoffeeB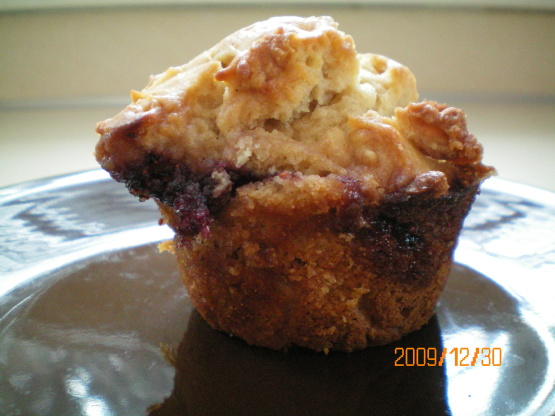 I have been making these for years! They are one of my DH's favorites!

Chose this recipe specifically because of the picture. The coarse looking texture just appealed to me. But, mine did not come out exactly like that. It did have some cracks and it was a pretty good sized muffin, as I used every bit of the batter. These muffins were absolutely divine! So moist, flavorful and addicting! I had to stop at one because they are huge! Thank you for posting this, it is a great recipe! My family loves them too!
Heat oven to 375 degrees F. Spray muffin pan with no-stick spray. Stir together flour, salt and baking powder in a large bowl. Add milk, eggs, 2/3 cup sugar, peanut butter and oil to bowl. Combine ingredients on low speed of electric mixer, just until moistened. Do not over beat.
Fill prepared muffin cups evenly with half of the batter. Place 2 level teaspoons jam or preserves in the center of each muffin. Evenly divide remaining batter between muffin cups. Sprinkle with the 1/4 cup sugar.
Bake for 18-20 minutes. Remove from oven. Cool in pan 5 minutes.