Peanut Butter and Jelly Muffins
HisPixie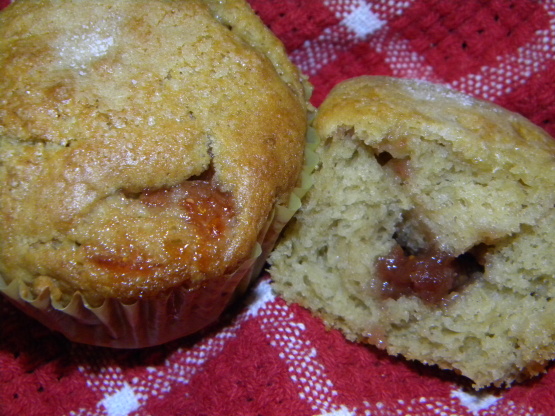 A real kid pleasing muffin that adults love too.

Nice, tasty muffin! Not too peanut buttery nor too sweet. Quick & easy too. The only thing I did differently was to sprinkle a little sugar on top of the muffins before baking to give it a little bit of a shiny look when baked. Make for My 3 Chefs Challenge, Nov. 2009.
In a large bowl, combine the flour, brown sugar, baking powder, baking soda and salt.
In a small mixing bowl, beat the eggs, yogurt, peanut butter and oil on low speed until well combined; stir into the dry ingredients just until moistened.
Fill paper-lined muffin cups half full.
Top each with 3/4 teaspoon jelly and remaining batter.
Bake at 400 degrees for 16-20 minutes or until golden brown.
Cool for 5 minutes before removing from pans to a wire rack.