Peanut Butter and Jelly Hummus
loof751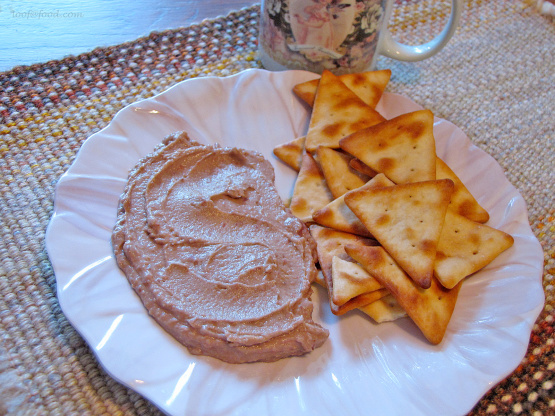 This recipe comes from a very nice blog called cupcakesandkalechips.com. Ive modified it a bit to suit my taste even more, though. It is a dessert hummus and tastes sooo good. It gives you all those classic pb&j flavours but is so much better for you. I love it! :)

I was so intrigued by this recipe I just had to try it and I'm glad I did - it's terrific! I had to use close to double the tea to get the texture I wanted. I think using a tart jelly like raspberry is best to bring out the other flavors of this hummus. I know you said this was a dessert hummus but I enjoyed it for breakfast with baked pita crackers and a nice cup of green tea - yum! Thanks for sharing the recipe!
3⁄4 cup chickpeas, cooked (drained and rinsed if using canned)
3⁄4 cup red kidney beans, cooked (drained and rinsed if using canned)
1⁄2 cup natural-style peanut butter (I only used a one)

8

teaspoons black tea (or use non-dairy milk)

2

tablespoons raspberry jam (or jelly or jam of choice)
In your food processor or blender combine everything except for the jam and process until really smooth. Depending on your beans and pb you might need to add a tad more or less liquid to this.
Stir in jam and refrigerate until ready to serve. This is great with fruit and cookies.