Peanut Butter and Jelly Coffee Cake
Pamela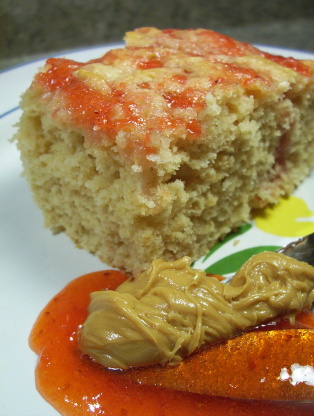 This is for the peanut butter & jelly lovers out there. I've made it for a breakfast treat and also as a dessert. We find it to be good anytime!!! I like it because the ingredients are things you usually have on hand.

Top Review by didyb
It smelled GREAT while cooking, but then was very, very dry. I will try again and this time mix 1/2 cup jelly in the batter, and then spread another 1/2 cup on top. I nuked the jelly before putting on top, and it was very easy to spread. Update 11-26-09-- I doubled the peanut butter and baked at 375. I also decided how I was going to cut it before baking and put a heaping tsp of preserves on top of each serving.
Heat oven to 400.
Grease layer pan 9X 1 1/2 inches.
Mix baking mix& sugar.
Cut in peanut butter.
Mix in milk and egg.
Beat vigorously 1/2 minute.
Spread in pan
Spoon jelly or jam onto batter and spread thinly
Bake 25 to 30 minutes or until light brown Serve warm.