Peanut Butter and Jam Cookies
2Bleu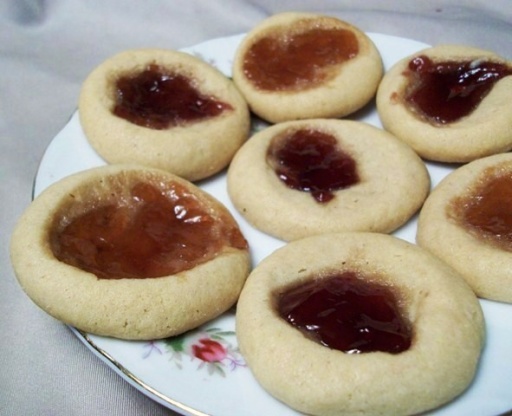 What a perfect combo! Kids love to help with these... usually the thumbprint part!

I made these today using mango jam and blackberry jam. The dough was very wet and even after adding about 1/4 extra cup of flour & refrigerating the dough, it was still very hard to work with. I definitely couldn't form balls. :( The flavor was good but the cookies were so soft they fell apart VERY easily. Sorry I couldn't give more stars but wanted to be honest.
Preheat oven to 350°F.
In large bowl, cream together butter, peanut butter, and sugars.
Add egg and vanilla, mix until smooth.
In a small bowl, mix flour, salt and baking soda.
Stir into butter mixture until completely blended.
Form dough into balls and flatten with thumb, on cookie sheet, to make a well.
Drop 1 tsp of jam into each well.
Bake until lightly browned around the edges, 10-12 minutes.
Let cool on cookie sheet for 1 min before removing.