Peanut Butter and Ginger Noodles
lazyme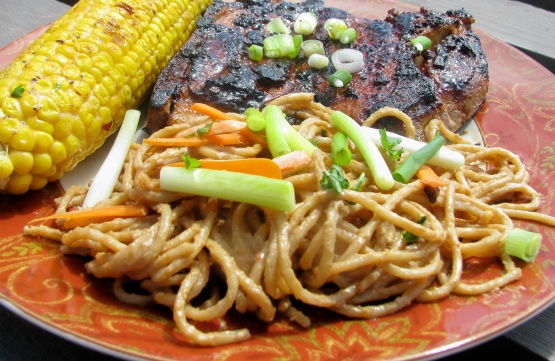 From Prevention Magazine November 2003 with some minor tweeks. An intriguing use of maple syrup... In the future I may try subbing cashew butter or almond butter for the peanut butter as I am curious how that would taste. Lemongrass puree is available in the refrigerated produce section in most large grocery chains and natural food stores. The brand is Gourmet Garden and is made in Australia. I use as needed, then freeze the tube.
8

ounces organic whole wheat noodles (I used flat noodles)

Sauce

1⁄2 cup peanut butter (creamy or chunky-your choice)
1⁄2 cup warm vegetable broth

1

tablespoon real maple syrup

1

tablespoon tamari

1

teaspoon lemongrass, pureed (my addition) (optional)

1

teaspoon gingerroot, freshly grated (for extra spice, add more ginger)
1⁄2 small carrot, peeled and cut into matchsticks
1⁄4 cup scallion, thinly sliced into 2-inch pieces (green and white parts)
Cook the whole wheat pasta according to manufacturer's directions. Cook "al dente".
Drain and set aside.
In a serving bowl combine the sauce ingredients except for the carrots, scallions and cilantro leaves. Whisk until smooth. Note: It may help to combine all the sauce ingredients in a small saucepan or microwave-safe bowl and lightly warm. I prepared this again recently and found it much easier to warm the sauce ingredients first.
Toss the cooked pasta noodles with the peanut butter mixture.
Garnish with the carrots, scallions and cilantro leaves ; serve warm.