Peanut Butter and Fluff Fudge
HisPixie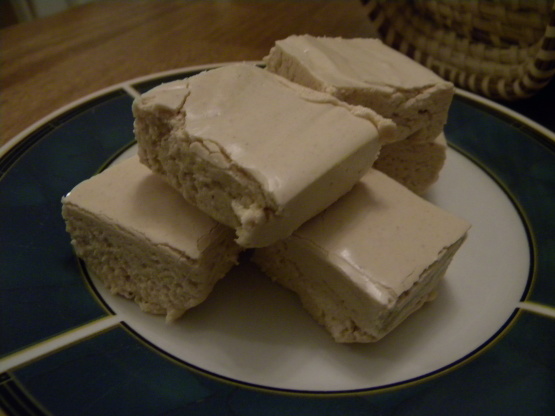 I bought a bottle of marshmallow Fluff and went looking for recipes online. I looked on their website for recipe ideas, and came across this one for peanut butter fudge. It is awesome and definitely worth a try!
JACK POT! I have been trying to remake or find a recipe for a tahini fluff sold in jars in Saudi Arabia. I made this recipe with tahini and only brought the milk and sugar to a boil, to achieve less solid results. This is it! Highly addictive. I eat on toast or straight out of jar, with a spoon. Will work wonderfully as a fudge, no doubt. Here I go, again! Thank you so much for this one!
Grease a 8 or 9 inch square baking pan; set aside.
In large saucepan combine milk and sugar. Stir over low heat until blended. Over medium heat, bring to a full-rolling boil being careful not to mistake escaping air bubbles for boiling. Boil slowly, stirring constantly, 5 minutes.
Remove from heat, cool slightly and blend in peanut butter, Fluff.
and vanilla. Pour into pan and cool until set. Best to let set over night.
*** I melted down some old Easter chocolate I have in the freezer, and spread on the top. You could also make 2 batches in bigger pans so they are thinner, and layer some crushed peanuts in between. Or maybe substitute peanut butter with Nutella. ***.
Makes about 1 1/2 pounds.