Peanut Butter and Chocolate Chip Bars
vrvrvr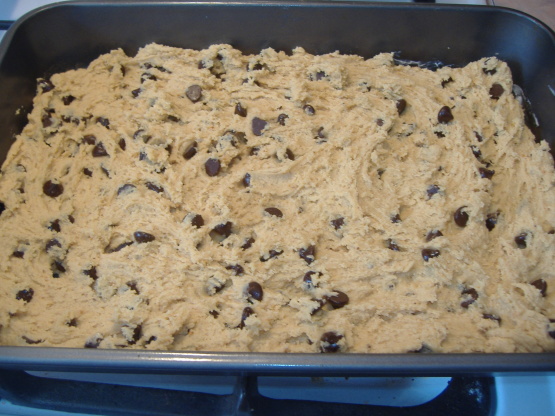 These bars were served in the dormitory in my college days. The recipe came from the ladies in the kitchen. Much adjustment had to be done to size this down to a family version.

Top Review by vrvrvr
Heavenly. I took cookingqueen80's advice and upped the flour to 2 c. I also used a little less sugar and one less egg. The result is a scrumptious bar, moist, rich, buttery and all around perfect. I didn't add nuts; they'd be great but these are really rich bars without them. Thanks for this winner!
Cream butter and sugar, add all eggs annd dry ingredients.
Stir in chocolate chips and nuts.
Spread in a 13x9 greased pan.
Bake at 350° for 20 minutes or until set.
Frost with Cream Cheese frosting or Chocolate Frosting.