Peanut Butter and Banana Sandwich
Nibblets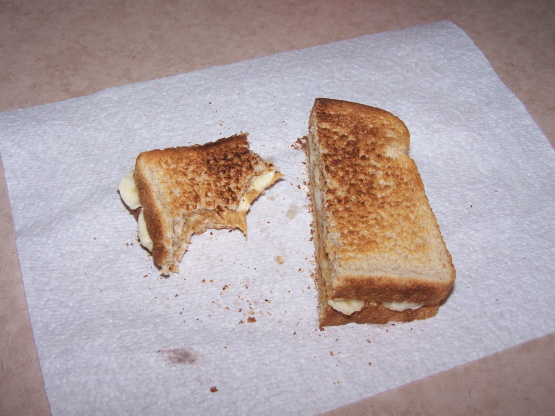 This is a complicated, but delectable sandwich once you master the technique. ;) *Please note: Make sure you peel the banana before you slice it and put it onto the sandwich. A reviewer was kind enough to point that oversight out to me. Thank you ever so kindly Bruce!! ;) har har
Place bread into toaster (any toaster will do). Once toasted, butter toast then extract peanut butter from jar (any brand will do) and apply onto toast. Then place bananas on top of peanut butter side by side, being careful not to overlap but to make sure the entire toast piece is covered. Lastly, EVER SO CAREFULLY, top with second piece of toast so it is symmetrically secured.
NOTE: You may need perform this whole application using oven mitts as the toast may be hot.
OPTION: To make sandwich decorative, slice sandwich in half. Or if you are feeling extra daring that day, slice into fourths! :).
There you have it folks! A little tricky, but well worth it! ;).