Barb G.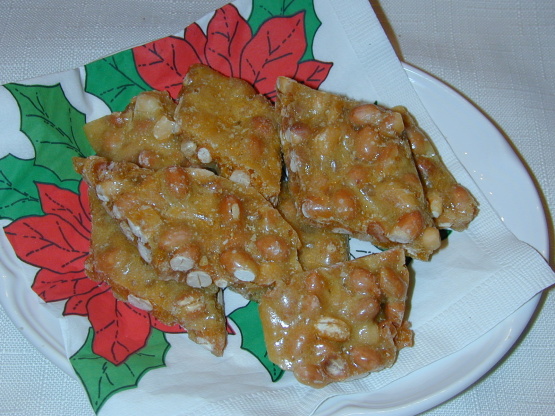 This peanut brittle is a must at our house during the holidays. Everyone says it is the BEST Peanut brittle that they have ever tasted. My friend Joy says it is better than See's. The recipe comes from my 1953(almost 50 year old) Better Homes and Gardens Cookbook.It takes time, BUT, well worth it.

Oh, this was very yummy. It turned out beautifully. I've not made candy before - only had a candy thermometer because we needed one for my son's science project. I was surprised at how long it took to get up to temperature. Also, I'm glad I planned ahead and had the pans pre-buttered and the baking soda and butter pre-measured.
In a heavy skillet (I think an iron skillet works best).
Combine sugar,corn syrup, and water; cook slowly, stirring till sugar dissolves, cook to soft ball stage(275).
Add peanuts and salt;Stir and watch so that peanuts don't scorch or burn.
(They will pop & crack you want them to brown some for best flavor.) Cook to hard crack stage(300-310).
Add butter and SODA; stir to blend,(Mixture Will Bubble), Pour onto buttered cookie sheet or cover with release foil for easy cleanup(do not butter);Makes2 1/2 Pounds.