Karen..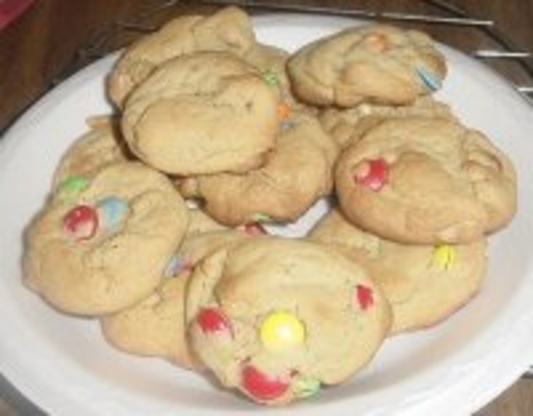 Assorted children of all ages will enjoy helping munch out on these chunky, chewy cookies!

These are easy and delicious cookies. I used salted peanuts for the nuts and I got 33 cookies out of the batch. They took exactly 9 minutes in my oven, but I did have to wait a minute or so before removing them from the cookie sheet, otherwise they were falling apart before they made it to the cooling rack. These are very colorful and would be nice on Holiday trays...I know I am adding them to my ever-growing list :) By the way, these are not overly peanut-buttery, which was fine with me, because I am not a peanut butter cookie fan. Everyone in our family loved these. Thanks, Sharon, for another yummy recipe.
Heat oven to 375*.
In large bowl, beat brown sugar, margarine and peanut butter until light and fluffy.
Add vanilla and egg; blend well.
Stir in all purpose flour, whole wheat flour and baking soda; mix well.
Stir in peanuts and candy-coated chocolate pieces.
Drop dough by rounded tablespoonfuls 2 inches apart onto ungreased cookie sheets.
Bake at 375* for 6 to 10 minutes or until light golden brown.
Immediately remove from cookie sheets.
Cool completely.