Peachy Poppy Seed Muffins
twissis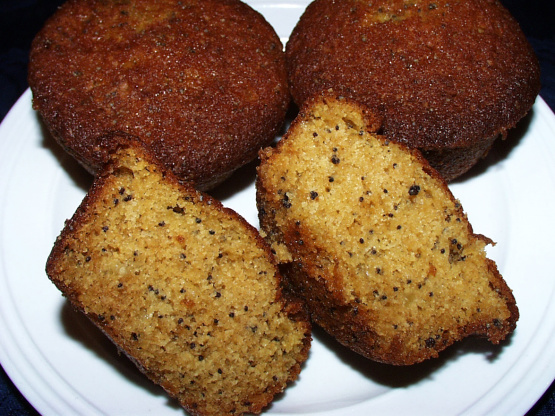 This recipe is from Alberta, Canada, from the fine folks at Robin Hood Flour. These freeze rally well.

Today was muffin day in Iceland as I made 2 of your muffin recipes for the Camera-less Chef game. This was the 1st & I admit I was attracted to this recipe for 2 reasons - milk is not an ingredient & peach-flavoured baby food is an ingredient! These are not the prettiest muffins I have ever made, but they are among the best. They are easy to fix, baked to a brown crunchy top in exactly 20 min, were light as a feather inside & the taste was TDF! I was very impressed & believe a whole variety of baby food fruit flavours will work well here. I even shared the recipe w/a friend here w/2 sml children allergic to milk. They are so perfect for her family. DH gave me 1 of his ARE YOU CRAZY? looks when he saw baby food on the grocery list, but I bet he will not mind buying more the next time. Thx for sharing this unique & keeper recipe w/us. Yum!
PREHEAT oven to 350ºF. Cream butter and sugar. Add eggs and vanilla; mix well.
COMBINE flour, poppy seeds, baking soda and salt. Add to creamed mixture, alternately with baby food. Spoon batter into paper-lined or greased muffin cups, filling 2/3 full.
BAKE at 350ºF for 20-25 minutes, or until top springs back when lightly touched. Cool 10 minutes, then remove from pans; transfer to racks and cool completely.
You can use other types of baby food such as apple or apricot.