Kree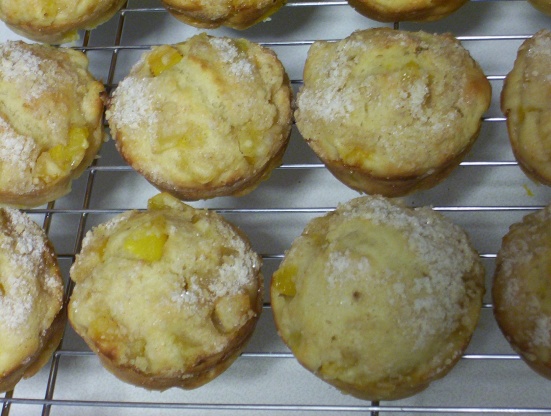 Found on a B&B website, credit given to Folkestone Inn. Very nice as a brunch offering - the topping makes them extra good! (And you will have lots of extra topping for future batches).

Sorry, but our family found these to have a strange taste and texture. The topping was too floury. We actually threw them out! Sorry, just our opinion!
Preheat oven to 400.
Spray 12 muffin cups with cooking spray.
Make the topping, blending all ingredients with pastry blender or fork, for a course consistency.
Set aside.
In a large bowl, combine all dry ingredients.
In a smaller bowl, combine egg, sour cream, milk, vanilla and oil.
Gently stir in the peaches.
Add the peach mixture to the dry ingredient mixture, stirring just until moistened.
Do not overmix or you will have tough muffins.
Fill the muffin cups with batter, and sprinkle each muffin generously with topping.
Bake 20-25 minutes.