Peachy Cheesecake Squares
PaulaG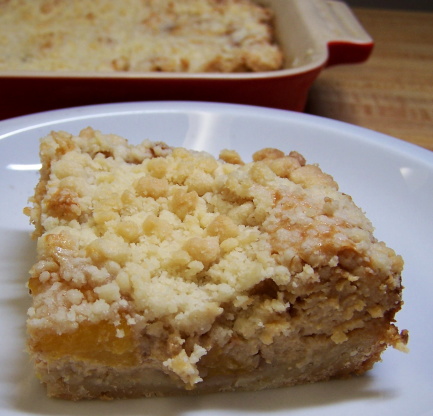 This dessert makes GREAT use of all the fresh peaches you find at the end of summer. And it's a nice change from the traditional peach cobbler. I brought this to a church bakesale/social and it was a big hit. I found this recipe in a catalog for Penzey's spices under their section for cinnamon.

I didn't care for this recipe for a few reasons. First, the ingredient list calls for 1/2 c. butter, or two sticks. Ummm, two sticks is a whole cup, not a half. I used a whole cup, two sticks, because I would rather ere on the side of caution. However, despite the extra butter the recipe still turned out completely dry. The bottom crust was dry, the top crust was dry, and the peaches were dry. Next, I wasn't sure about the cooking time. The recipe said to bake until the peaches bubbled, but mine never did. Finally, the cheesecake layer disappeared entirely. I was looking for a peach cheesecake dessert, and instead ended up with a peach cake dessert with no hint of cheesecake. Disappointing, for sure.
Preheat oven to 350 degrees.
Peel, core and thinly slice peaches (or chop, your choice) Toss peaches with cinnamon sugar and set aside.
In a large bowl, sift flour and powdered sugar.
Add the two sticks of butter, and cut into the flour and sugar until mixture is crumbly and a bit dry.
I use my hands, as I do not have a food processor.
Remove two cups of the flour/sugar mixture to use later for the topping.
Press the remaining mixture into the bottom of an ungreased 9x13" pan, evenly, to form the bottom crust.
Bake crust in 350 degree oven for 15 minutes.
While crust bakes, beat the cream cheese until fluffy.
Pour in condensed milk and beat until smooth.
Add egg and vanilla and mix well.
When crust has baked for 15 minutes, remove from oven and place the peaches over the crust in an even layer.
Any peach juice can be added on top as well.
Next, pour the cream cheese mixture over the peaches.
I try and smooth over any peaches that might be"poking" up throught the cream.
Now sprinkle the reserved flour/ sugar mixture over the cream filling.
I use a fork to break up any chunks, so the crust lies evenly.
Bake in the oven for 30-35 minutes.
Peaches should begin to bubble, and the outer crust should just be starting to brown on top.
It is better to cut this dessert into squares when it has cooled entirely, but it is absolutely incredible warm, just from the oven!
Please store leftovers in the refrigerator.