Peaches 'n Cream Icebox Pie
BecR2400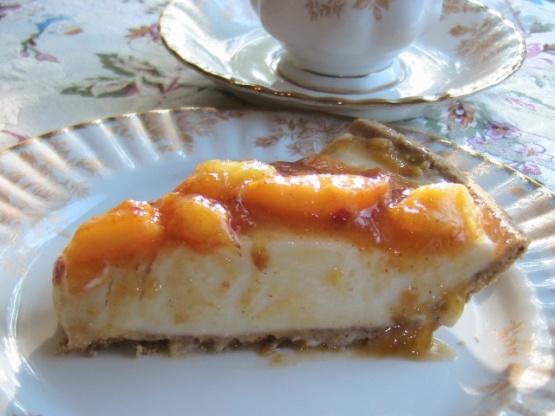 Lots of peachy flavor in this easy no-bake icebox pie! Best made with fresh peaches but other fresh, frozen or canned fruit is good too. Pie may be refrigerated for at least three hours and then served--but it's firmer and easier to slice if made ahead and frozen, then defrosted for 10 to 15 minutes prior to slicing.

Wow this pie is just heavenly! It was creamy and delicious and will so be made again in my house :) I peeled my peaches first before making the topping, but that's just personal preference, everything else was the same as written. Although I think I may try freezing it for a little bit next time before serving, just to firm it up for better slicing. I had a slight problem with it staying together for slicing, but it was so worth it. This recipe used up some peaches and preserves I got at a farm market recently, thank you for sharing!
In medium mixing bowl, beat cream cheese until smooth.
Add condensed milk and blend well.
Add lemon juice and the vanilla extract. Blend well to combine.
Pour into premade pie shell.
Cover and refrigerate pie for at least three hours, or freeze.
(Note: The pie will slice best if made ahead then frozen overnight or until serving time. Pie may be frozen with or without the peach topping. Defrost for 10 to 15 minutes prior to slicing).
Peach Topping:.
In a medium bowl, stir the sliced peaches with marmalade and cinnamon. Top pie with the peach mixture.