Peaches 'n' Cream Casserole
PaulaG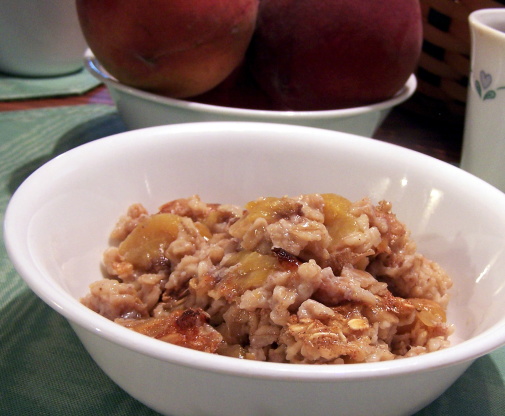 This is elegant enough for a Sunday brunch, and provides a different way to enjoy your breakfast oatmeal. It can be enjoyed as is, or topped with maple syrup. Leftovers are good cold or can be reheated in an oven or microwave. From Lean and Luscious and Meatless.

This recipe is good and healthy. I thought it was a little bland and boring until I added a little bit of maple syrup on top, then it was perfect! I used fresh southern peaches, whole eggs and raw milk from the farm. Otherwise, I followed the recipe exactly. I think next time, I may use a half of cup less of milk to make it drier (just my personal preference). Thanks for a great breakfast!
1 1⁄2 cups rolled oats
1 1⁄2 cups thinly sliced peaches, peeled (Canned peaches, packed in juice, may be used.)
1⁄4 cup sugar

2

egg whites

2

teaspoons vanilla extract
1⁄4 teaspoon almond extract

3

cups skim milk
Preheat oven to 350 degrees.
Spray an 8-inch square baking pan with nonstick cooking spray.
In a large bowl, combine oats, peaches and sugar.
In another bowl, combine remaining ingredients.
Beat with a fork or wire whisk until blended.
Add to oat mixture, mixing well.
Place mixture in prepared pan.
Bake, uncovered, 50 minutes.
Serve hot.