WiGal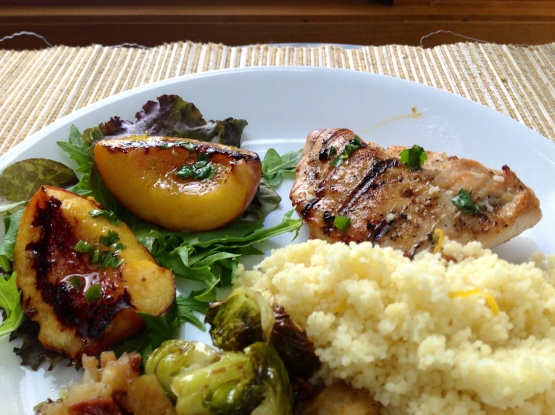 This is an espress and healthy recipe that is made on the barbecue. From the issue of June 2006 of Coup de Pouce

This is wonderful and low in calories too. The barbecued peaches taste great and the lime dressing is perfect over the salad and chicken and peaches. We'll definitely have this again and the only thing I would do is increase the chopped chili to 2 teaspoons (I used fresh jalapeno).
In a measuring cup, with a whisk, mix zest and lime juice, oil, honey and 1 pinch of salt and pepper. Set aside half of the lime mixture. Add fresh coriander and chili pepper to the remaining of lime mixture (dressing). Set aside.
In a small bowl, mix garlic, cumin, ground coriander and remaining salt and pepper. Rub each side of chicken cutlets with the mixture of spices.
Set the barbecue to medium-high heat. Put cutlets and peaches on an oil grill and baste with the mixture of lime (not the dressing with coriander). Close the cover and cook 6 to 8 minutes or until chicken is not pink inside and peaches are tender and grilled (flip them at mid-cooking). Serve on the mixed greens and spread with the dressing with coriander.