Peaches and Honey Baked Chicken
Xexe383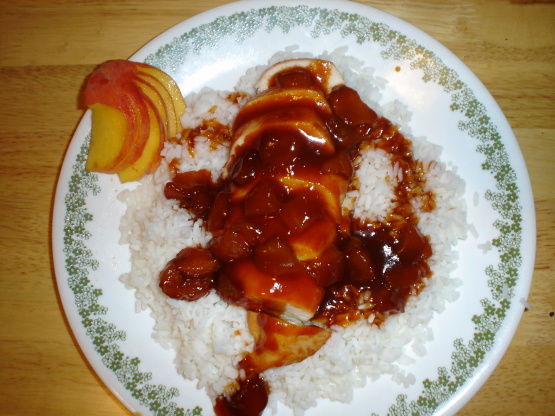 This delicious chicken makes use of one of my favorite summer fruits: peaches! And since I'm a closet Campbell's tomato soup eater, this recipe is a favorite of mine. The extra sauce is tasty on rice.

I love this recipe and make it up for the freezer often as a "dump" meal. However, my family does not like the peaches in slices, so I puree them in the blender then add it to the soup. Seems to make the sauce a little more on the sweet side which my family loves. This is also great on Country Pork Ribs and also done on the grill brushing the sauce over it. I also serve the left over sauce on the side.
In a saucepan, combine peaches, tomato soup, honey, vinegar, brown sugar, vegetable oil, Worcestershire sauce, dry mustard, paprika, salt, pepper and garlic powder.
Bring to a boil, stirring constantly.
Reduce heat and simmer uncovered for 30 minutes, stirring occasionally.
Preheat oven to 350 degrees F.
Place chicken breasts in a baking dish; pour sauce over.
Bake, covered, at 350 degrees for one hour; uncover and bake another 15 minutes.
Serve with plenty of rice to eat with the extra sauce!