Peaches and Cream With Raspberry Sauce
This is a great recipe for peaches in season, with the added benefit of being low in fat when made as written. You can even throw some granola on top for a little crunch.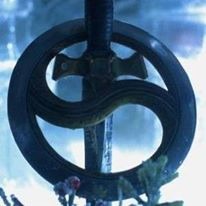 This recipe made such a beautiful dessert and the taste was fantastic! The only change I made was to add a small amount of sugar to the raspberry puree since DH likes desserts very sweet. Thanks for sharing the recipe!
In food processor, combine frozen raspberries and honey, and process to a puree.
Strain mixture through a fine-mesh sieve into a bowl; discard seeds.
In a medium bowl, combine yogurt, sour cream and vanilla.
Reserving 1/4 cup raspberry puree, divide the remainder into 4 dessert bowls.
Dividing evenly, place 2-3 dollops of sour cream mixture on top of raspberry puree in each bowl.
With a sharp knife, briefly swirl the sour cream mixture and puree into a decorative pattern.
Place peaches on top of puree and sour cream mixture in bowls.
Top with fresh raspberries; spoon reserved puree over all.