gauri118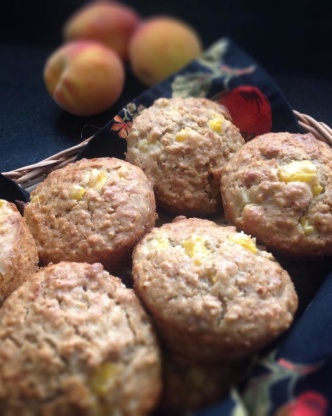 These muffins combine fresh peaches, creamy yogurt, and chewy oatmeal. They're from a cookbooklet I bought at a local farm market, Peach Perfect (Low Fat Recipes) by Sherri Eldridge. Each muffin has only 159 calories and 3 grams of fat. Use soy yogurt to make these dairy-free.
Preheat oven to 400. Spray cups of muffin tin with non-stick oil.
Mix flour, oats, sugar, baking powder, baking soda, and cinnamon together.
In a separate bowl, beat eggs, yogurt, honey, oil, and vanilla until blended. Stir peaches into liquid mixture.
Combine dry ingredients and liquid mixture with several quick strokes.
Pour batter into 12 muffin cups. Bake 20 minutes, or until a toothpick inserted in center comes out clean.
Cool muffins 5 minutes on a wire rack. Serve warm.