Peach Upside-Down Pudding Cake
dicentra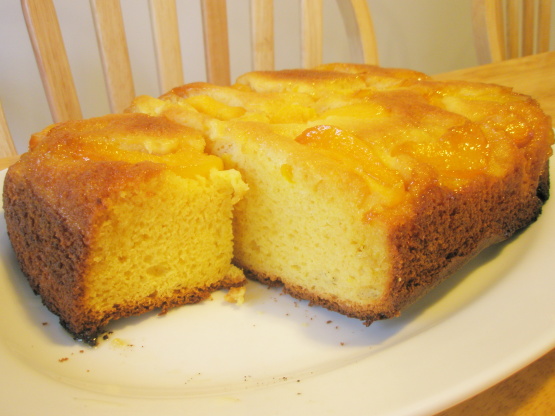 This is a very easy cake, and the pudding makes it so moist. I like to serve with whipped topping and cinnamon sprinkled over top...looks like you put a lot of work into it, but it is really very simple. Mmm, think I must go make one right now!!

I used thinly sliced fresh peaches and added a pinch of nutmeg to the batter. Very easy to make. This is outstanding!! I will definitely make this again, Thanks Manda!! This is a keeper!
Combine butter and brown sugar and pour into 13x9-inch pan.
Arrange peaches on top.
Combine remaining ingredients in large bowl.
Beat at medium speed 4 minutes.
Spoon into pan and bake at 350 degrees for 50-55 minutes or until cake springs back when touched.
Cool in pan 5 minutes.
Invert onto platter, and cool completely.
Garnish with whipped topping, if desired.