Peach Upside Down Muffins
Amy020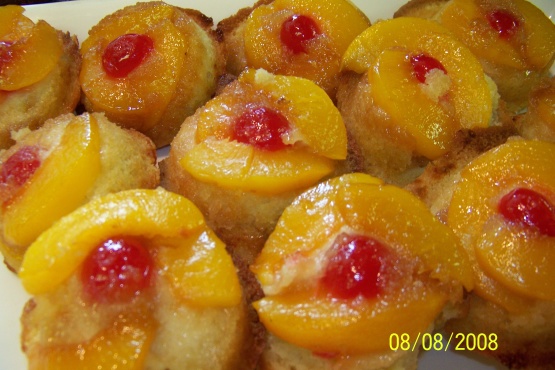 I've long been a fan of Peach Upside Down Cake, so when I found this recipe on the web, I had to try it. They're cooling right now and I can't wait to dig in! NOTE: I halved the butter and brown sugar as an easy way to cut some fat and calories. I had a little trouble getting them out of the pan and some of the peaches slipped off and had to be put back on, but there doesn't seem to be a significant compromise to the muffin. I'm interested if the results differ if you use all the butter and brown sugar that's called for. Also, you could easily stretch more than 12 muffins out of this recipe.

These muffins are a new breakfast treat at my house! They are more like dessert than a muffin, which is fine by me, as I love my sweets! We all couldn't wait to try one, and that first bite was spectacular! I had along with my first cup of coffee and this was an added bonus to breakfast this morning! Thanks for sharing!
In medium bowl, mix together egg, milk and melted shortening. Set aside.
Sift together flour, sugar, baking powder and salt. Fold into egg mixture until just combined.
Divide butter and brown sugar equally among 12 muffin tin cups. Heat in a 375*F oven until melted (a minute or two).
Place one cherry half in the center of each tin cup and arrange peach slices around it. Spoon batter over cherries/peaches.
Bake 25 mins or until center is set. Remove from oven and turn out onto serving platter (or wire rack over wax paper to catch the buttery, sugary drips) immediately. Let cool.