Mandy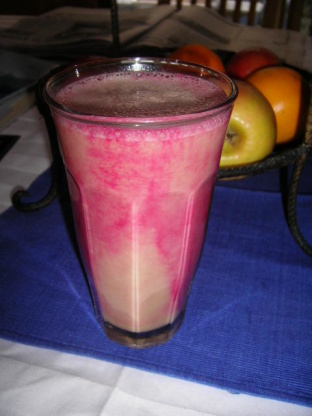 I found this recipe in a healthy heart cookbook. I thought the addition of tea to a smoothie was quite interesting. I'm not really a tea drinker so thought this was a good way to get the anti-oxidants without the tea taste. Tastes really yummy too!

I really enjoyed this. I used white tea and fresh sweet juicy peaches. I peeled the peaches and used a tablespoon of honey to make up for not having any syrup. Had to add a splash of skim milk to thin it out a bit. Was very peachy and good! :)
Pour boiling water over tea bag and allow to steep for 5 minutes, discard bag and allow tea to cool.
Blend peaches, syrup, tea and yoghurt until smooth.
Swirl grenadine into 2 glasses and pour in peach mixture.