Peach Strawberry Smoothies
awalde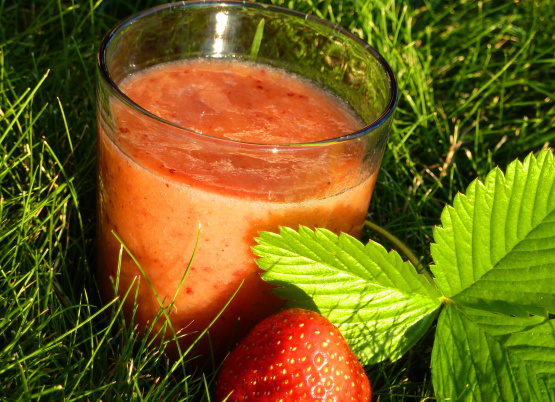 "Frozen fruit pieces replace ice cubes to chill this frosty oh-so-good refresher.

I did change a couple of things ~ Omitted the sugar & used cranberry-pomegranate juice since I had it on hand! When possible I don't sweeten my own smoothies, & felt the very ripe & flavorful berries (along with the peaches) gave enough sweetness! Definitely froze the fruit, though, as that gives a nice frosty chill that we like! Divided this between two very tall glasses & were very happy campers! Thanks for sharing the recipe! [Made & reviewed in Healthy Choices ABC recipe tag]
Line baking sheet or tray with plastic wrap.
Arrange peaches and strawberries in single layer on baking sheet.
Cover with plastic wrap and freeze until firm.
If desired, set aside four peach slices for garnish.
In blender, combine cranberry juice, sugar, remaining peaches, and the strawberries. Cover and blend until smooth.
If desired, garnish each serving with reserved peach slice.