Peach Salad With Balsamic Dressing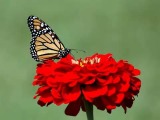 Recipe is from Smart Balance and sounds so incredibly good! Feel free to increase the ingredients and/or add other fruits that pair well with balsamic.
2 tablespoons balsamic vinegar
1 teaspoon oil (your choice)
8 cups salad greens
2 peaches, sliced
1 tablespoon red onion, chopped
1⁄16 teaspoon salt
2 dashes black pepper (or to taste)
Directions
Combine vinegar, oil, salt and pepper. Cover peaches and onion with dressing mixture. Dress salad greens with peach mixture and serve immediately.
Reviews
Most Helpful
I made it as is and was wonderful.
This salad is easy, healthy and colorful. Perfect for summer peaches! I made this as written, but added sliced almonds for garnish (just because I think they go well with peaches) and I doubled the amount of peaches. The dressing was good, but I thought it needed a little garlic and a bit of honey, so I added the two and I was pleased with the result. Thanx for sharing!

Get Healthy Your Way