MeliBug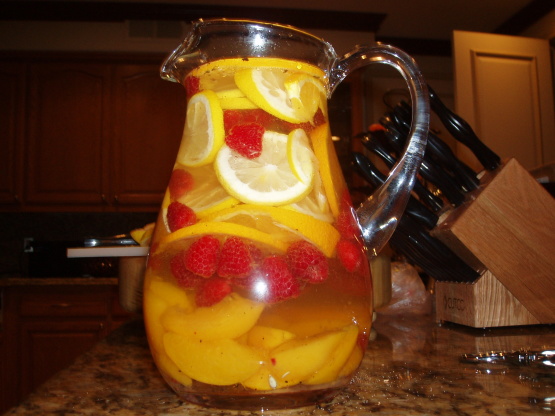 This is a delicious sangria! Perfect for the summer or a girlie get together! your guests will love it! I would suggest thinking twice about the vanilla bean seeds because they can be a bit of a turn off for some people since they look like little black things floating around.... and if u want to make a fuller pitcher, add a 3rd bottle of Riesling or extra fruit!

To heck with this being a summer drink.....this is my new friend! Talk about yummy! I didn't have access to a vanilla bean, so I can't say I have fully experienced this recipe, but what I did ekspeariensh wath kwi dewishus.....(i dwank da ho ting by mysef)....hee hee. Thanks.
Cut vanilla bean lengthwise. Scrape out the black seeds and put at bottom of pitcher. Discard the pods.
Combine all the other ingredients. Be careful with the liquid because the fruit will cause it to overflow if the pitcher is too full!
Chill sangria overnight to get maximum flavor.
Just before serving, add ice cubes. Try using extra raspberries to make raspberry ice cubes for an extra pretty sangria! :) Enjoy!