Peach, Prosciutto and Goat Cheese Summer Pizza
Mme M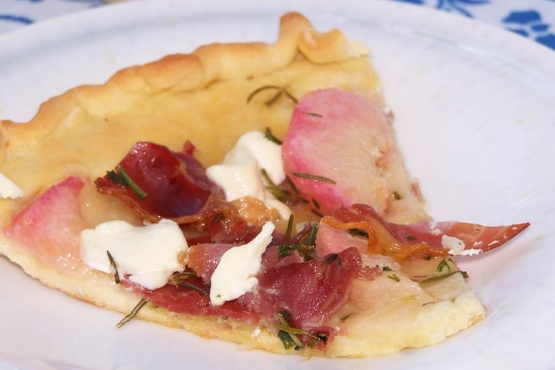 A favorite pizza with my family, we love the summer peach harvest! A great summer lunch or dinner. Amounts can be approximate, depending on your pizza crust size and preference.

We loved this pizza! We tried making our own crust using Recipe #80617 80617, though I probably won't use that crust again next time with this recipe. The blending of flavors in this pizza was fantastic! I really liked the savory flavor that the herbs de provence lent the dish. Like another reviewer, I was not sure how we would like the combination of fruit and meat, but the white peaches that I used blended perfectly with the prosciutto and the goat cheese (which I love). Thanks for a great pizza dish. We will definitely make this again. Made for ZWT5.
Make your own pizza crust or use a ready made crust of your choice.
Brush the crust with a small amount of the olive oil.
Arrange the peach wedges and cut or tear thin sliced prosciutto into pieces then arrange over the crust.
Crumble the goat cheese over the peaches and prosciutto.
Sprinkle the Herb de Provence over the pizza.
Bake at 400 degrees for 10 to 14 minutes.