Peach Pie With Almond-Pecan Streusel
Pam-I-Am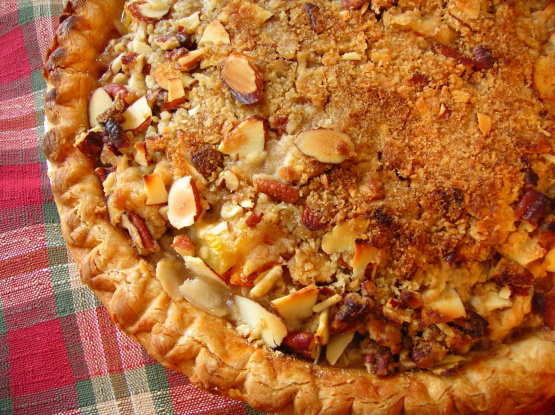 Cut from our local newspaper a few years ago. It has become a family favorite. "If apple is the quintessential American pie, then peach is surely our summertime favorite, and all the more if it's served a la mode. To make a peach pie worth of the name, use fully ripe fruit and a pastry crust that's rich and tender but still sturdy enough to contain its sweet, juicy burden without collapsing. To remove the skins from peaches easily, pour boiling water over them, then quickly dip fruit into ice water. Use your fingers or a small knife to slip off the skins. This recipe calls for a crumbly nut topping, but you could substitue a classic lattice crust that lets the fruit show through. Serve the pie warm or at room temperatue, with or without ice cream. To gauge the amount of sugar and cornstarch to use, take your cue from the ripeness of the peaches; if they are very sweet-tasting and quite juicy, use the smaller amount of sugar and the large amount of cornstarch."
Preheat oven to 425 degrees.
Line a 9-inch pie plate with pastry. In a large bowl, combine sliced peaches, granulated sugar, cornstarch and nutmeg. Allow to stand 15 minutes.
Lightly brush uncooked pie shell with a thin layer of egg white to moisture-proof pie crust. Stir lemon juice and almond extract into peach mixture; spoon into pie shell.
Mix brown sugar with flour; cut in butter until crumbly. Stir in nuts. Sprinkle mixture over peaches.
Bake for 15 minutes. Reduce oven to 400 degrees and bake 35 minutes more. To prevent overbrowning of rim of crust, cover edges with strips of foil.