wyojess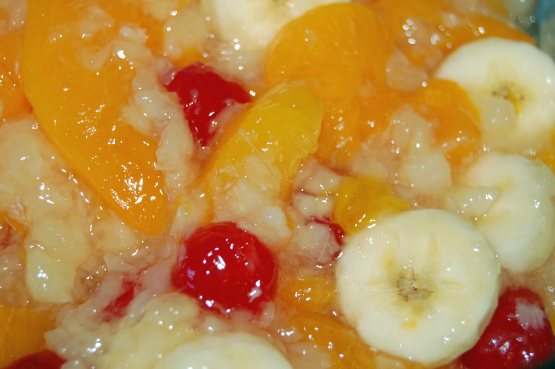 This salad was definitely love at first bite. So colorful, too. What a pretty presentation! Tip: If you know you're going to be making this, pop all the cans in the fridge the day or even week before, then you can just put all the ingredients in a bowl and go. 5 minutes! Another Tip: Try apple pie filling for a nice twist.

A delicious fruit salad to bring to potlucks for Spring and Summer. This is sooo good! My sister's late mother-in-law never shared this recipe with others, and I'm so happy your posted it here. My sis says to post a big THANKS from her. BTW, this is awesome spooned over sliced pound cake!
Mix together pie filling, oranges, pineapple and cherries.
Fold in banana (don't squish it!).
Chill 3-4 hours.
(Optional): Fold in walnuts right before serving so they don't get soggy.