dicentra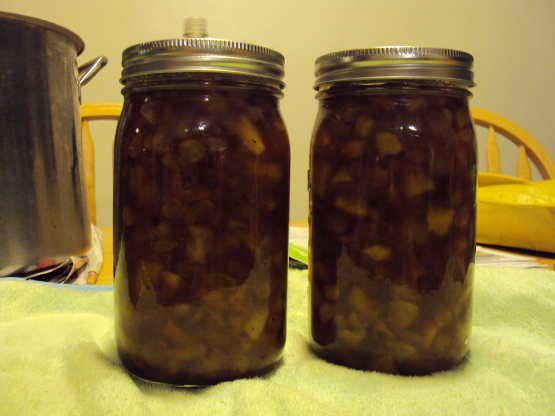 A taste of summer in a jar.

We (7 of us) fell in love with this. After canning my first batch, I had some left that wouldn't fill a jar. I heated a cast iron skillet added 1/2 stick of butter and 1/2 cup brown sugar, poured the excess on top of this and topped it with a butter cake mix. Baked it until golden brown and let it cool for 10 minutes. When I turned it out of the pan onto a plate, we could hardly wait to taste it. To say the least, we were not disappointed!
Tie cinnamon stick and whole cloves in a cheesecloth spice bag.
Combine all ingredients in a large stainless or enamel saucepan.
Bring to a boil, cover and boil gently for about 75 minutes, stirring occasionally until thick.
Discard spice bag and ladle pie filling into clean hot jars leaving 1/2 inch head space.
Remove bubbles.
Process in a boiling water bath for 15 minutes at altitudes up to 1000 feet.