KateL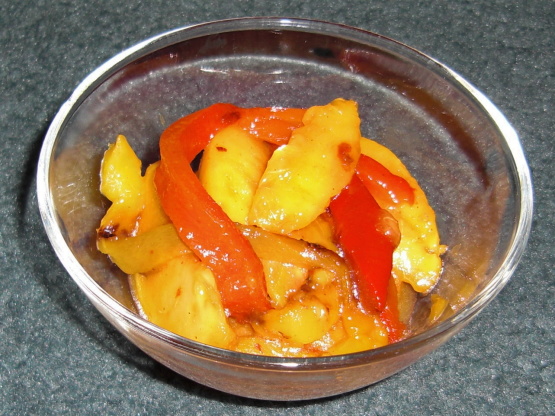 At just shy of 90 calories, a serving of this summertime side dish manages to squeeze in three times the RDA of vitamin C. It's also a good source of vitamin A and potassium, which are both good for heart health. This colorful salad works well with almost every main course, but it's a perfect match for grilled chicken breast or pork tenderloins

Top Review by KateL
4 Stars, mighty fine, using only fresh fruits. My guests would have preferred the peaches on their own, but requested the recipe to take home. The yellow pepper did not offer much contrast, so I would have preferred only red peppers, and would consider using jarred pimentos instead to offer the bright red accent to the peaches. It is imperative that the peaches be at their height of ripeness. Made for Healthy Choices ABC 2008.
Roast peppers over a gas flame, under a broiler or on a grill until the outside
is blackened and flesh is soft. Transfer peppers to a bowl, cover with a plate
and let stand for about 5 minutes. When cool enough to handle, peel off skins,
discard cores, seeds and veins, and cut into long, thin strips. Stir all
ingredients together in a serving bowl. Let stand at room
temperature until ready to serve.