Peach Pecan Upside-Down Cake
momaphet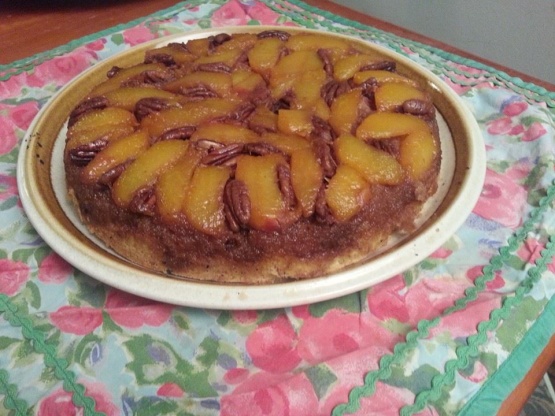 I happen to be a big fan of upside-down cakes, but an even bigger fan of peaches!! This cake is quite awesome for fellow peach-lovers. You can serve this warm or at room temperature with vanilla ice cream.
This cake received mixed reviews. We like the peach topping with the bourbon, it had a nice flavor without being overpowering. The toasted pecans were good but lost some of their crunch during the baking ,I would be tempted to sprinkle chopped toasted pecans over the top after the cake came out of the oven instead. We weren't crazy about the cake, this is more of a genoise and the texture was a bit odd with the peaches not what you expect from upside down cake; I also found it to be a bit bland. I will use the topping portion again. Following family tradition I baked this in my cast iron frying pan and the cake turned out beautifully. Made for the 2014 Culinary Quest.
Heat oven to 350 degrees. Butter 10-inch round cake pan.
Make topping: Place pecans in small baking pan and toast in oven until fragrant, about 10 minutes. Let cool.
Melt butter in small saucepan over medium-high heat. Stir in brown sugar, corn syrup, and bourbon. Heat to boiling and boil, stirring constantly, until thickened to consistency of syrup, about 5 minutes. Pour into prepared pan. Cut peaches into 1/2-inch-thick slices and arrange in concentric circles on syrup. Arrange pecans decoratively between peaches.
Make cake batter: Sift flour, cornstarch, baking powder, and salt together into mixing bowl.
Beat eggs and sugar together in mixer bowl on medium-high speed until thick and doubled in volume.
Mix vanilla and melted butter in small bowl. Stir large spoonful of egg mixture into butter mixture, then gently fold back into egg mixture. Using rubber spatula, gently fold in flour mixture 1/4 cup at a time. Pour batter evenly over peaches.
Bake until cake is golden and center springs back when lightly pressed, 30-35 minutes. Immediately run table knife around edge of cake and invert onto serving plate. Serve.