Boomette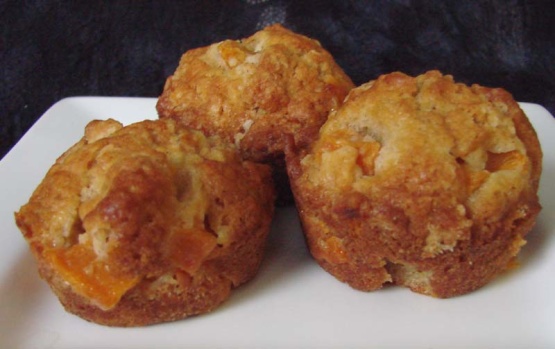 Make with fresh or canned peaches. Can be made as a loaf, if desired.

Sarah M's review needs to be deleted! This is by far the best peach baked good I have ever tasted! At first I was skeptical because of how thick the batter was but once I added the fresh peaches it loosened up. In 1 hour it baked perfectly and I had a piece cut off before it even cooled all the way. Please try this recipe, you won't be sorry you did.
Preheat oven to 350. Lightly grease muffin tins or greased/floured 9" x5" bread loaf pan.
In a large mixing bowl, combine the flour, salt, baking soda, sugars and cinnamon. Make a well in the center; add the eggs, oil and vanilla and stir just until dry mixture is moistened.
Stir in almonds, if using them.
Stir in the chopped peaches.
Pour about 1/3 cup of batter into the muffin tins. Bake at 350 for 20-25 minutes or until toothpick tests done.
If baking in the loaf pan, bake at 350 for 1 hour or until done.