sheri77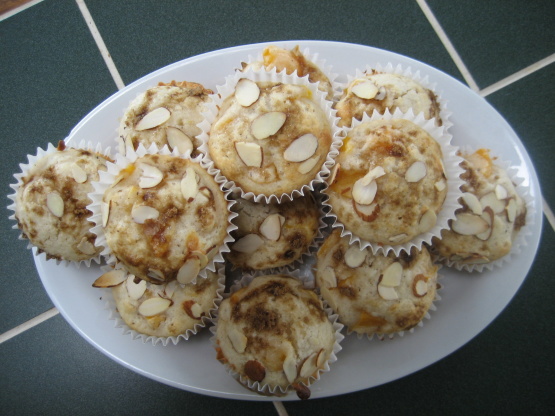 These are very good with scrambled eggs. They'd probably be good with a cup of coffee too but I don't drink it.

Thank you so much for this recipe, it turned out brilliant. I followed the recipe almost to the T with the exception of 2 things -I couldn't make half and half as I didn't have cream so I put a 120gram pot of strawberry yoghurt which measured just under half a cup, then filled the rest of the cup up with milk. Because the yoghurt would sweeten, I reduced the sugar and put 3/4's of a cup instead. Because I cook in celcius I made my first error, I was cooking them at 185 degrees celcius, realised 12 minutes in, so bumped up the heat to 200 degrees celcius for 6 minutes - tested them and they were perfect so pulled them out 2 minutes early. They turned out so well, thank you so much for posting, considering I made an error, and had to change a few ingredients these are really lovely and moist. Thanks
Mix dry ingredients together in a large mixing bowl.
Mix wet ingredients together in a medium mixing bowl.
Add wet to dry, stirring just until moistened.
Fold in peaches.
Spoon into greased muffin cups 2/3's full.
Sprinkle brown sugar on tops.
Bake in a preheated 400 degree oven for 20 minutes.
Let cool in pan for 10 minutes.
Slide a knife around edges to make sure no peaches are stuck and remove from muffin cups.
Let cool on wire racks.
Enjoy!